On January 24th, 2023, over 75 members from the international Family of the Sacred Heart participated in the Zoom event on International Day of Education. The participants included the Religious of the Sacred Heart of Jesus (RSCJ), collaborators, associates, educators, students, alumnae, and friends. All these gathered to celebrate the gift of Sacred Heart education to the world.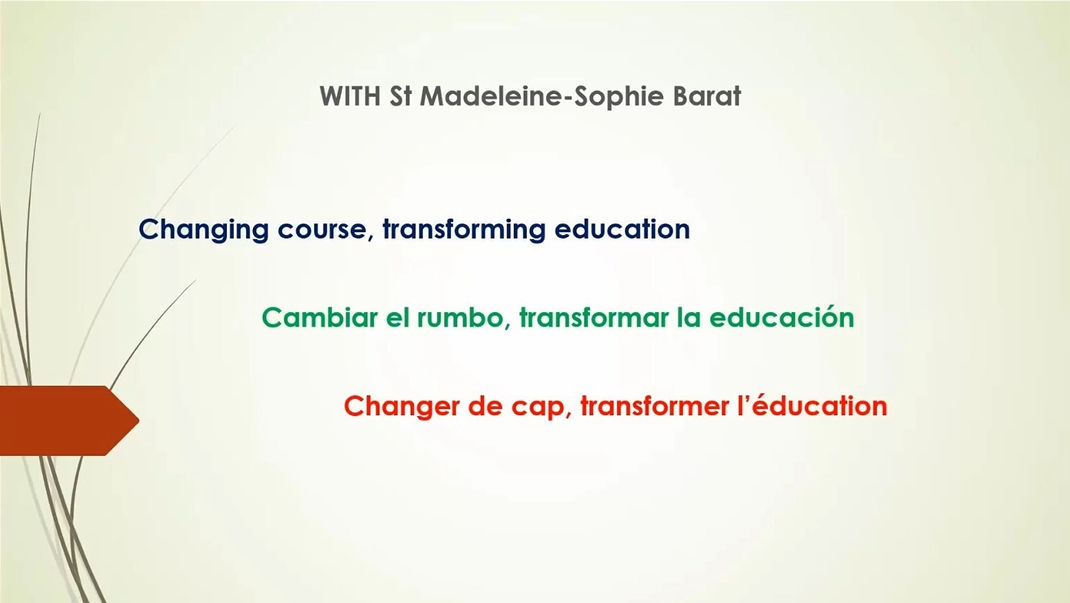 The theme for the day was "Changing Course, Transforming Education". Isabelle Lagneau rscj from France, the keynote speaker of the day, emphasized the need for Sacred Heart Educators to be aware of the changing world, to change themselves, and to change those they educate through transformative education. She invited the Sacred Heart educators to initiate change and to do it as a community, as Sophie would have had us do it together. 
Maria Casares, an alumna of the Sacred Heart School of Mexico City, shared her experience and understanding of transformative education. She highlighted the benefits of transformative education; helping one know other options, work her way out of realities, and build hope. She emphasized that education is the best investment and an option for a better future.
The participants discussed the theme of the day and the importance of the seriousness of self and communal examination that would help to envision an education that is important in deciding what we need to do, what we should abandon, and what we need to invent to enable our present generation to face the future with hope.
Participants were encouraged to ask questions which were answered by the keynote speaker and the panelists. The event was brought to closure by Yolanda (the assistant moderator for the day) who appreciated all who attended.
Planning committee: Ms. Alexandra Sasha Amelang and Ms. Lisabeth Kelly, Sacred Heart Alumnae and volunteers with the Society's UN-NGO Office. Sheila Smith rscj, the outgoing UN-NGO Representative for the Society, and Margaret Mwarili rscj, incoming UN-NGO Representative for the Society and moderator of the event. 
Interpreters: Ana Blazaquez Ubach and Carla Bertana 
IT coordinator: Florence De la Villeon
Margaret Mwarili rscj
Watch the Zoom event below: